At Northern911 our mission is to help peoplein their times of need. It's what we do all day, every day. We achieve our mission by providing reliable, efficient, and accurate services backed by advanced technological systems. We strive to never have a single point of failure.
Specifications:
Full duplicate system in a geographically different location.
Primary and back up 9-1-1 T1 trunks to the majority of Bell 911 tandem switches in the province.
Multiple PRI spans with automatic failover capability.
We have dual redundant Firewalls/Network Switches. The "Infinity" switch is the engine of our telephony system. One of the most reliable and dependable switches available.
Dual mirrored drives, dual power supplies, automatic backups, the works!
The telephone trunks use diverse paths for entrance to the building. We operate on multiple fibre strands, T1 ISDN spans, Centrex on dedicated copper and analogue copper trunks.
We use services from multiple telephone and internet providers for additional reliability.
Back-up phones are available in the event of a PBX failure. If all physical lines to the building are cut, we have cellular phones available for back up.
Our E911 systems are monitored 100% of the time by Northern911 and the Bell Canada 911 Surveillance and Monitoring Centre.
All equipment spares are centralized and all critical components from hard drives, voice-processing cards to entire computer shelves are on hand.
All computer database records are backed up multiple times daily.
All critical computers have a redundant unit available.
In addition to the regular daily back-ups, we also take data off-site daily.
Call Recording:
In the event that there is difficulty understanding the caller we can instantly replay the call as many times as required in an attempt to get clarification. We have multiple data terminals displaying the Enhanced 911 data and multiple virtual printers to log Information.
All calls are recorded and logged.
We archive the calls to our Storage Area Network for safety.
We keep "critical" 911, Fire and Alarm calls for a period requested by our clients.
Instant Call retrieval is available for all calls.
Emergency Power System
Our computer and telephone systems operate on a dual Uninterruptible Power Supply (UPS) systems and diesel powered generator back-up systems. In the event of a commercial power loss, the UPS systems will bridge power to all critical devices until the generator activates via an automatic transfer switch and powers the entire building.
The Electrical grid which powers

the building

is provided by Greater Sudbury Utilities which is extremely reliable in our area.
The Diesel Generator and the UPS back up system is tested under load on a scheduled basis.
SOC Compliance
Northern911, a division of Northern Communication Services Inc. is proud to announce that it has completed its SOC 2 Type I audit.
SOC – Service Organization Control
This attestation is evidence of Northern911's strong commitment to data protection and privacy protocols on behalf of its customers, and proof that the company has the necessary internal controls and processes in place to deliver on this promise.
SOC 2 certification is widely seen as the leading benchmark for enterprise data security and provides an independent, third-party validation that a service organization's information security practices meet industry standards. Our client data is highly sensitive and may be personal in nature.
Protecting that information for our clients and their clients has always been a top priority for Northern911.
We are a better company for having gone through this process and as a client you can be more comfortable in knowing that we take the security and confidentiality of your data so seriously.
Click on the logo to view the Press release related to our SOC report.
Feel free to contact us if you have any questions.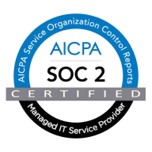 We strive to never have a single point of failure.
We do Disaster Planning and have procedures and regular training in-place to cover many different scenarios. For example, we have a Disaster plan for both total telephone line cuts and/or building evacuation to provide service from an alternative site. We keep a full set of information available at our secure off-site location and can transfer the calls to this location in the event of a problem in Sudbury Ontario.